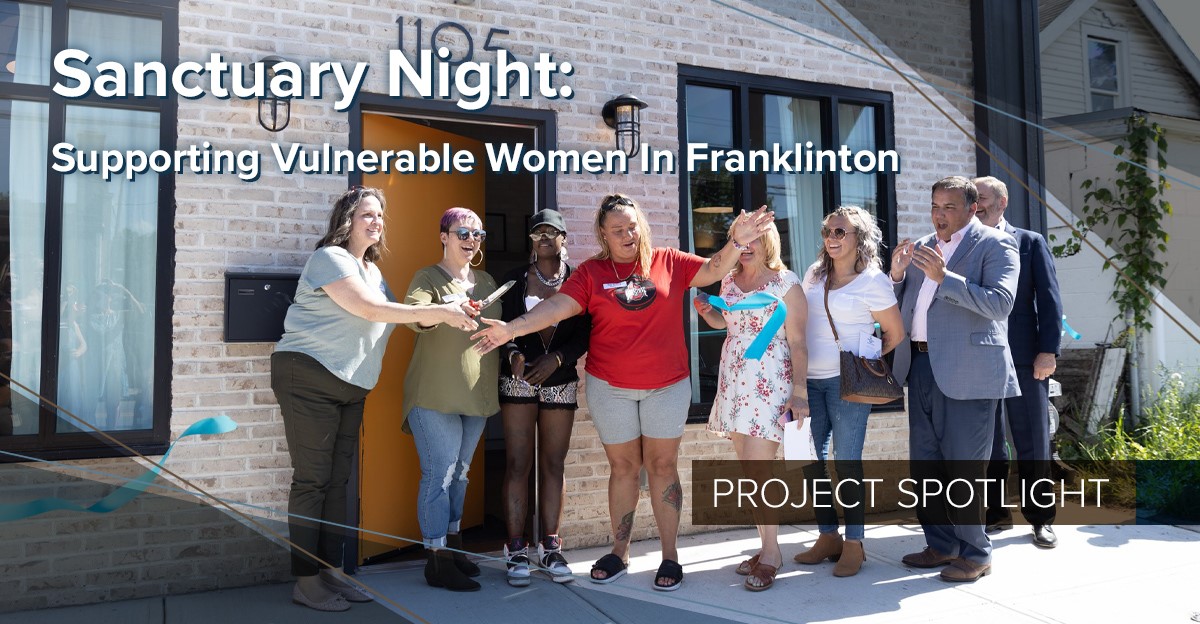 Much has been made about the recent ambitious developments in Franklinton — specifically, those in the east side closest to downtown Columbus. The Finance Authority has actively supported several of those projects through Central Ohio Bond Fund and TIF financing. Yet we're equally proud of a recent investment made on Franklinton's west end — a more modest project that will nevertheless provide an essential service to nearby people in need.
Sanctuary Night is a nonprofit that provides a place for vulnerable women to rest, eat, and connect with vital resources. Most of the women it serves have experienced prostitution, sex trafficking, and/or homelessness. The Finance Authority provided a $125,000 Neighborhood Improvement and Small Business Loan to Sanctuary Night to cover a financing gap as it completed the renovation of its first dedicated community service space at 1195 Sullivant Ave.
CFFA was proud to join Sanctuary Night founders Hannah Estabrook and Heather Mohrman, along with neighborhood and city leaders, for the new facility's ribbon-cutting ceremony in late May. Founded in 2017 and partnering with nearby Lower Lights Ministries, Sanctuary Night now has a permanent space to provide a safe and consistent environment where women can receive a warm meal, clothing, hygiene items, and resources for addiction and support. Among the many financial contributors to the project were the City of Columbus, Franklin County, the Columbus Foundation, Vineyard Columbus, Borror Family Foundation, Harry C. Moores Foundation, and others. The result of the fundraising: a formerly distressed, 1,244 square foot house has been transformed into a fresh and comfortable safe space for women in need. The major renovation project included new doors, windows, plumbing, restrooms, HVAC, and all interior and exterior walls.  
Sanctuary Night is now open for several hours six days a week, run by a paid staff of nine and 50 volunteers — most of whom have experienced similar vulnerabilities themselves. It is the first trauma-informed, survivor-led social service of its kind in Ohio. It hopes to operate 24/7 by the end of 2023.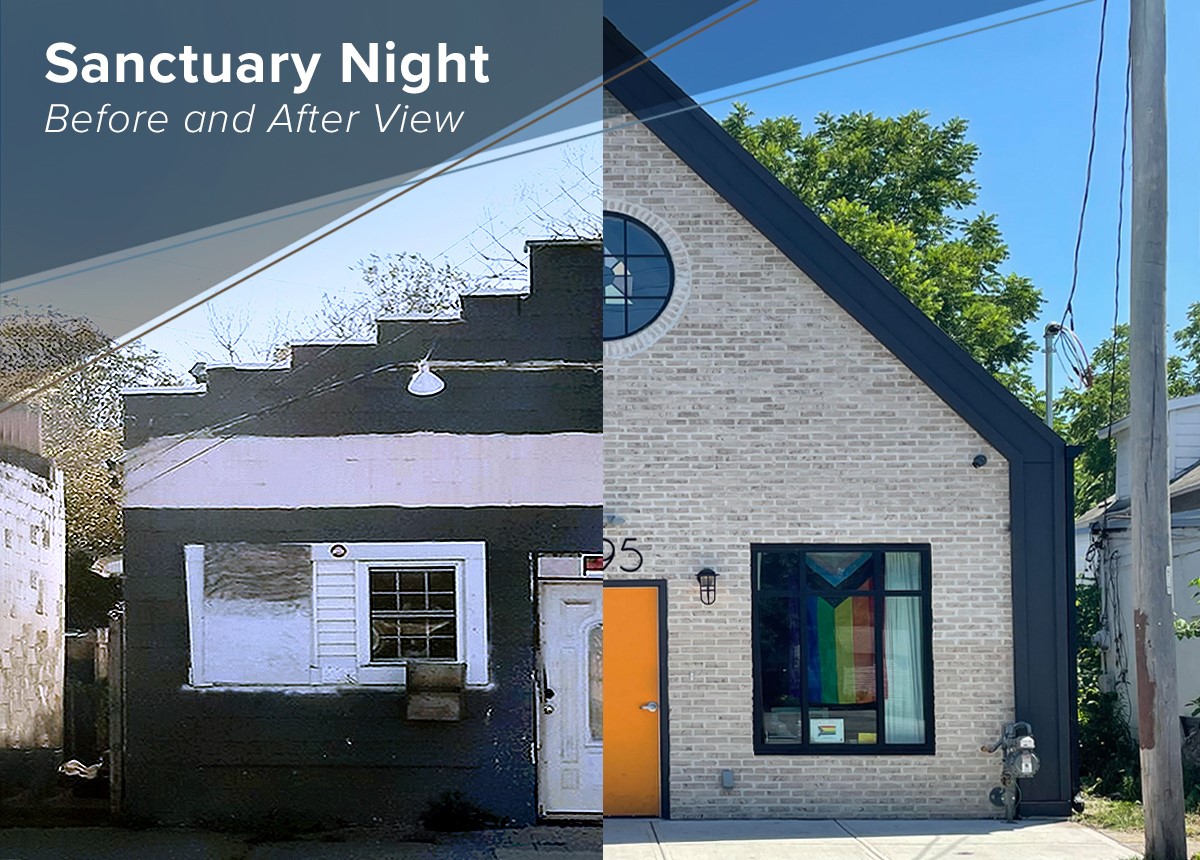 A sound investment
Sanctuary Night first contacted the Finance Authority more than a year ago, as it was seeking funding from a variety of sources. "We approved their loan request, but they were so successful in their fundraising, they didn't need it," remembered CFFA President Jean Carter Ryan. That was, until supply chain and labor constraints drove the project cost beyond estimate. In early 2022, organizers returned to the Finance Authority seeking necessary gap financing to finish the job. "We closed the loan quickly because we had performed much of the due diligence last year," added Ryan. "They made a strong case for the risk. We're very proud to be a part of the financing that helped bring services to a neighborhood in need. It's exactly what this loan program was created to do."
Co-founder Heather Mohrman, who serves as Sanctuary Night's Chief Strategy Officer, lived in Franklinton for 18 years before recently relocating to Bexley. Executive Director Hannah Estabrook continues to live in Franklinton, as she has for seven years. They met when working in the Franklin County Municipal Court's CATCH program, which was designed to help women arrested for prostitution better navigate the courts and successfully complete probation or recovery after sentencing. They saw the need for peer advocacy and a safe place for women to seek help before or after entering the court system. 
Now that Sanctuary Night is open, the founders are thrilled with the result. "The staff cohesiveness is far and above what I imagined is possible," said Mohrman. "When you walk in, it's a good energy. The ribbon cutting was a wonderful celebration of how far we'd come. We realized we're the recipients of amazing, courageous woman leaders who mentored us. "
They're also amazed by the survivors who consistently donate their time, experiences, and even financial gifts to help them achieve their mission. "They're generous," Mohrman said. "Sometimes these women never get out of their situations. But we are here to help reduce the harm they're experiencing. And when they do get out, it's glorious."