Columbus-Franklin County Finance Authority is a port authority, one of 61 in the state of Ohio. Some, like CFFA, are highly active in financing local commercial, industrial, institutional, or mixed-use development. Others are smaller and relatively inactive. In between, Ohio port authorities vary greatly in size, activity, and purpose. A few operate large bond funds. Others oversee SBA and minority lending. Yet others focus on foreign trade zone management. 
Until now, little information was available on the similarities and differences between these organizations. So CFFA commissioned a study to better understand and compare the scope, size, operations, and costs associated with the state's seven largest and most active authorities, along with six other key Columbus Region organizations that offer similar economic or community development services. The result is a comprehensive report that fills an information gap among Ohio port authorities. It clarifies each organization's scope and programs, and provides a truly useful reference for collaboration between them.
The study, five months in the making, was sponsored by CFFA and conducted by Hicks Partners, LLC, a Columbus-based governmental affairs consulting firm.  Data was collected from sources including annual reports, websites, audits, questionnaires, virtual meetings, telephone calls, and IRS filings. 
"The study is very comprehensive," said CFFA President Jean Carter Ryan. "It's information we've been interested in for years, and we were thrilled when our board supported our plan to undertake the project. We now know so much more about our peers locally and throughout the state. I have no doubt it will result in more collaboration among our organizations."
Key Findings
Port Authorities do a lot with a little. The top seven authorities manage more than 40 funding programs and generate billions in financing every year. And they do it with relatively small teams, collectively employing just over 100 people full time.  CFFA's lean, efficient staff of five is among the smallest and most efficient. 
And keep in mind, in addition to development financing, several of these organizations operate active transit ports. Among the high-level findings:
All of the organizations profiled in this report received their primary funding from program fees

. Several of the ports involved in public asset ownership and/or leading development projects also received revenue from those projects. Two of the ports (Cleveland and Toledo) received some funding from a local tax levy and the Port of Cincinnati received some operational funds from both the city and the county. Several Ports as well as other organizations received grant funding for operations, to launch a new program or enhance an existing program. 

All but one of the Ports studied operates a standalone bond fund

, and all offer conduit bonds and lease structures. Beyond that, the programs vary greatly from region to region. 

Port authorities typically contribute a portion of a project's capital stack. But they may also develop, own, and manage real estate projects

. For example, the Heath-Newark-Licking County Port Authority owns more than one million square feet of building space and 700 acres of land. Toledo-Lucas County Port Authority and Port of Greater Cincinnati Development Authority both own and manage multiple properties, buildings, and parking facilities. The Columbus-Franklin County Finance Authority owns several parking facilities. And while traditionally not directly involved in real estate ownership, the Summit County Development Finance Authority serves as the owner and project manager of the Historic Akron Civic Theatre. 

Affordable housing development is a growing community priority for most regions. Both the non-profit organizations and port authorities we studied support affordable housing in some fashion

. While there are several types of programs, nearly all are tied to the Area Median Income (AMI). Subtle differences within each organization's qualifications exist; key categories generally included: low income (50% AMI), low/moderate (80% or below AMI), workforce (80- 120% AMI), and market rate.

Two of the seven ports surveyed actively manage an air, rail, and/or maritime port

. The Cleveland Port Authority manages the Port of Cleveland, which is the third-largest port in the Great Lakes and the fourth-largest Great Lakes port by annual tonnage. The Port of Cleveland is the only container port on the Great Lakes, with bi-weekly service between Cleveland and Antwerp. The Toledo-Lucas County Port Authority manages 15 terminals linked to global markets, including the Port of Toledo, the Toledo Shipyard, and the Eugene F. Kranz Toledo Express Airport. It also manages the Dr. Martin Luther King, Jr. Plaza, one of Ohio's busiest Amtrak passenger rail hubs.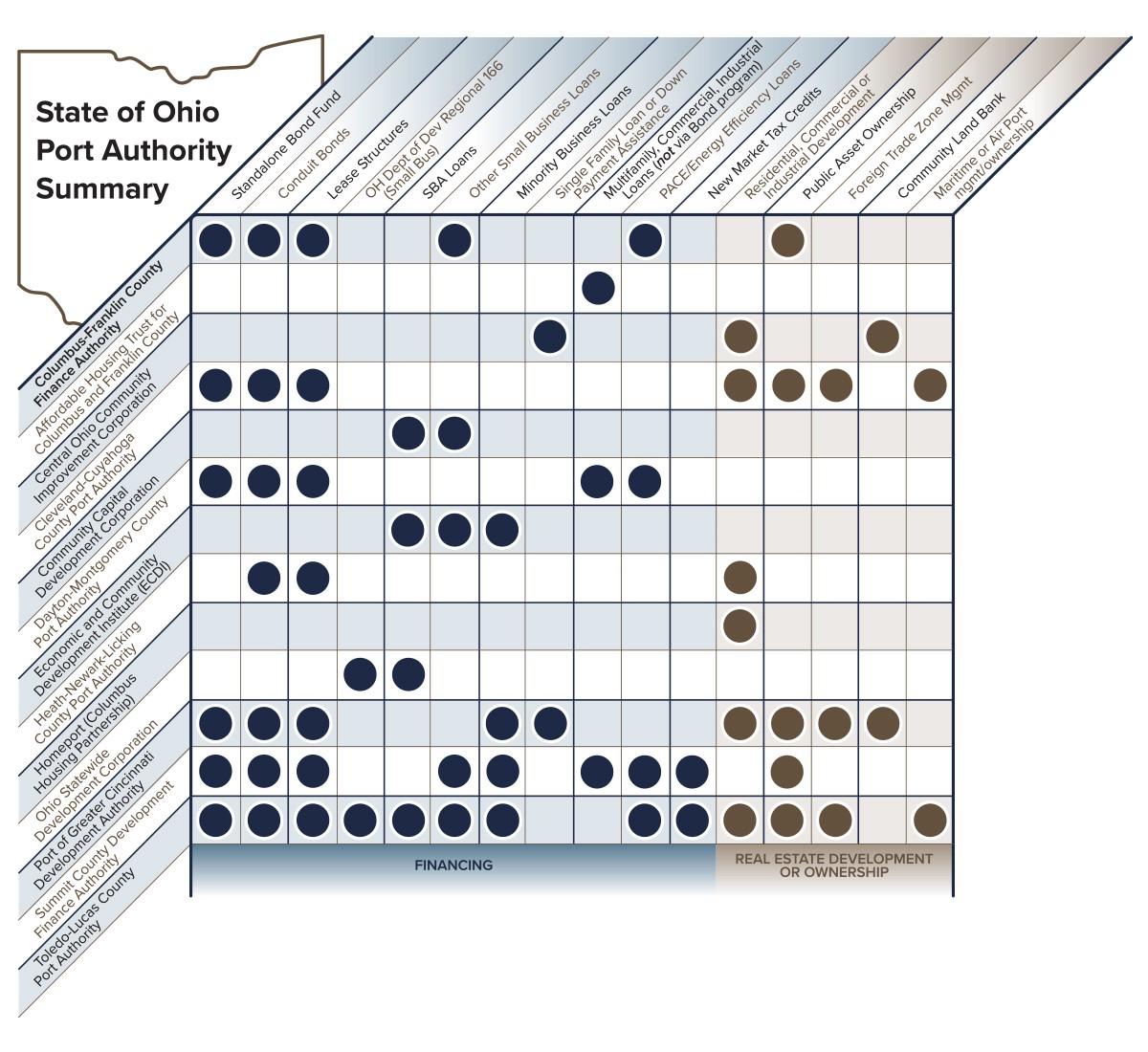 A Shared Resource
The report includes detailed profiles of each organization – their areas of emphasis, individual programs, and more. CFFA has shared it with each of the organizations studied and our Board of Directors. "We're proud to have contributed this resource to our peer organizations," said CFFA Vice President Huddle. It's not uncommon for these organizations to partner on projects where one organization has more experience than another, or risk can be distributed among them. Information like this helps identify where more collaboration may be possible. 
"The more we know about each other," added Huddle, "the more we can accomplish together."  
The report was funded by the CFFA.