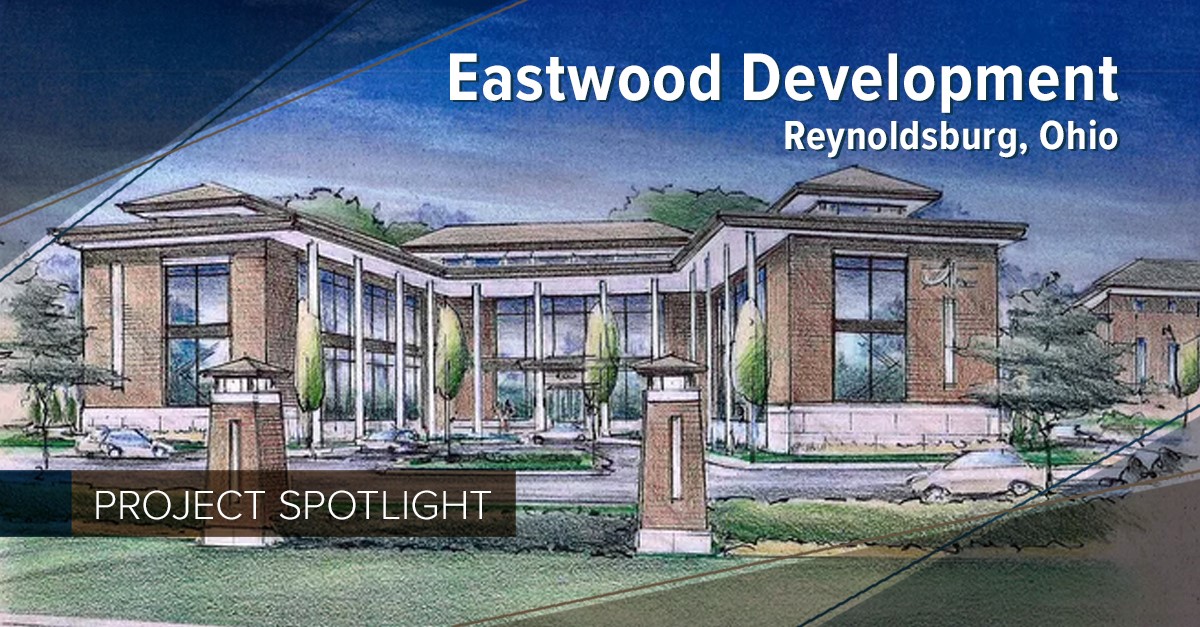 The Eastwood mixed-use development project in Reynoldsburg is an example of port authorities from different counties working in collaboration to finance public infrastructure. In this case, CFFA entered a cooperative agreement with the Heath-Newark-Licking County Port Authority  (HNLCPA) to finance public improvements that will be repaid via tax increment financing revenue.  
​​Eastwood Development Partners, LLC is master developer of the 58-acre project, to be located on the north side of E. Main Street (U.S. 40) between Rolen Road SW and Ballman Road in Reynoldsburg. The project will consist of 423 apartment units (combining both ranch-style buildings and a three-story structure) as well as approximately 11 acres of commercial parcels fronting E. Main Street. 
Overall development costs are expected to be approximately $56.5M, of which nearly $6.5M is for public infrastructure. Construction of public improvements for the project began in November, $4.8 million funded by CFFA's Central Ohio Regional Bond Fund, with the balance funded by the developer. Huntington Bank is trustee for the CFFA bonds. 
"This is our first such collaboration in Licking County.  We are pleased to use our Bond Fund to help address public infrastructure needs," said CFFA President Jean Carter Ryan. "Tapping our bond fund through a cooperative agreement is a great way for the community to take advantage of an established, rated, experienced bond fund."
Reynoldsburg City Council approved a 75% , 10-year TIF, committing some of the tax revenue generated from the increased value of the private development to repay debt for qualifying public improvements.   In this instance, the Finance Authority issues the bonds and the developer assigns the TIF revenue stream to the Finance Authority to repay the debt service on the bonds.  
 Residences at Eastwood Ranch Apartments 
The approximately 20-acre northeast corner of the project will include 159 ranch apartment units and a clubhouse. Developers expect residents to move in during Q3 of this year. The Residences at Eastwood Private Development is expected to cost approximately $31M.
Thornton Hall Apartments 
The approximately 16-acre northwest corner development will include 264 apartment units across 11 three-story breezeway buildings, a clubhouse, dog park, and community garden. The project is expected to cost approximately $24M, with opening projected for Q3 of this year.