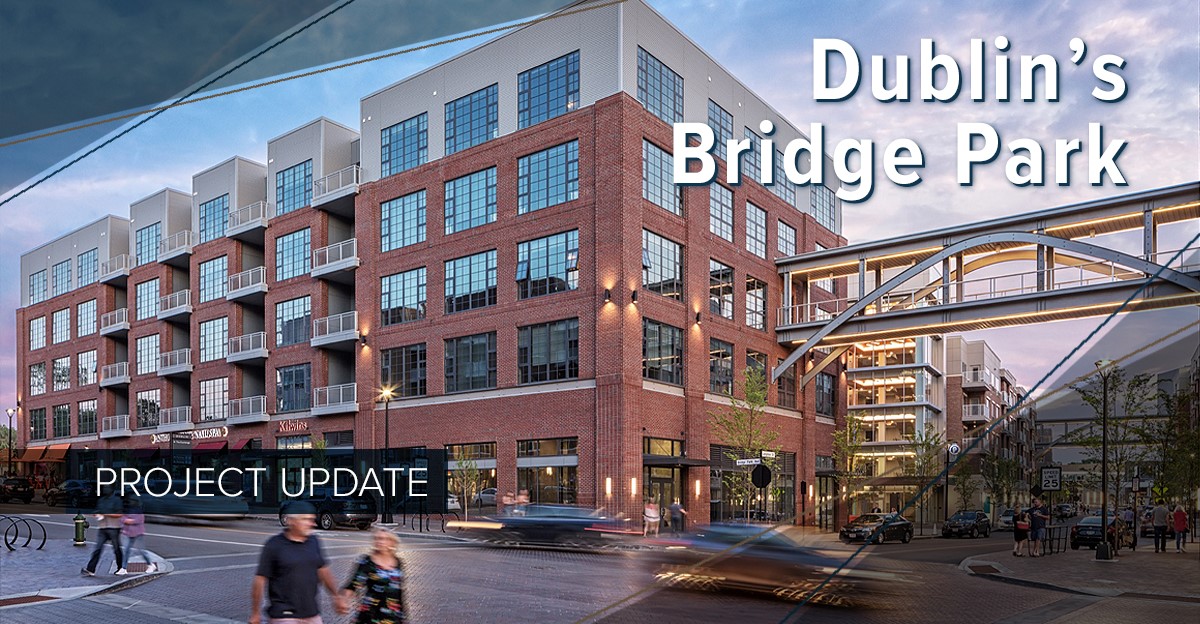 File this one under, "When a BIG vision is realized."
When we first spoke with the City of Dublin and developer Crawford Hoying in 2014 about the Bridge Park, it hinted at great things to come. The proposed master plan was expensive, dense, and complex. It would become a great example of how a Port Authority (such as ours) can use its unique financing capabilities to help an ambitious project to move forward. 
Now largely complete, Bridge Park is truly impressive — as is its impact. Dublin had always been bisected by the Scioto River; today, the east and west sides are connected by The Dublin Link pedestrian bridge and bustling with new residential, commercial, retail, recreational, and public gathering spaces. Stroll the streets and common places and the vitality the District created for the community is obvious.
Less obvious, but just as important, is the district's economic impact. The 30 acres on the east side of the river, previously occupied by a golf range, retail center, and car wash, now includes dozens of new buildings and garages. All told, Bridge Park includes more than 20 buildings and hundreds of new jobs — and more are on the way as development continues. Original sales tax revenue was just a fraction of estimated collection from $84 million in on-site sales today. As of year-end 2021, nearly a half billion dollars has been made in real estate investment.
The project includes:
The

AC Hotel by Marriott

, a sleek 150-room hotel with a destination rooftop bar.

The

Exchange Events Center

, a 19,000 sf conference space.

Riverside Crossing Park

, an interface between the living and dining destinations, the bridge, and the river.

Extensive residential units

— 528 for rent, 106 for sale.

A total of

325,000 sf of office space

.

200,000 sf of retail space

.
The Finance Authority contributed more than $275 million in conduit financing, plus $4.9 million from the Central Ohio Bond Fund, for development of parking garages, condo and apartment units, office space, and a variety of retail and restaurant infrastructure improvements. A west side garage included contributions by the Finance Authorities of Toledo and Summit County.
"Bridge Park is among the most exciting developments we've seen in Central Ohio in the last decade," said CFFA President Jean Carter Ryan. "We're incredibly proud to have contributed to this impressive development's financing. Congratulations Crawford Hoying, the City of Dublin, and the many collaborators who created a destination serving not only the City of Dublin but the Columbus Region and Ohio."