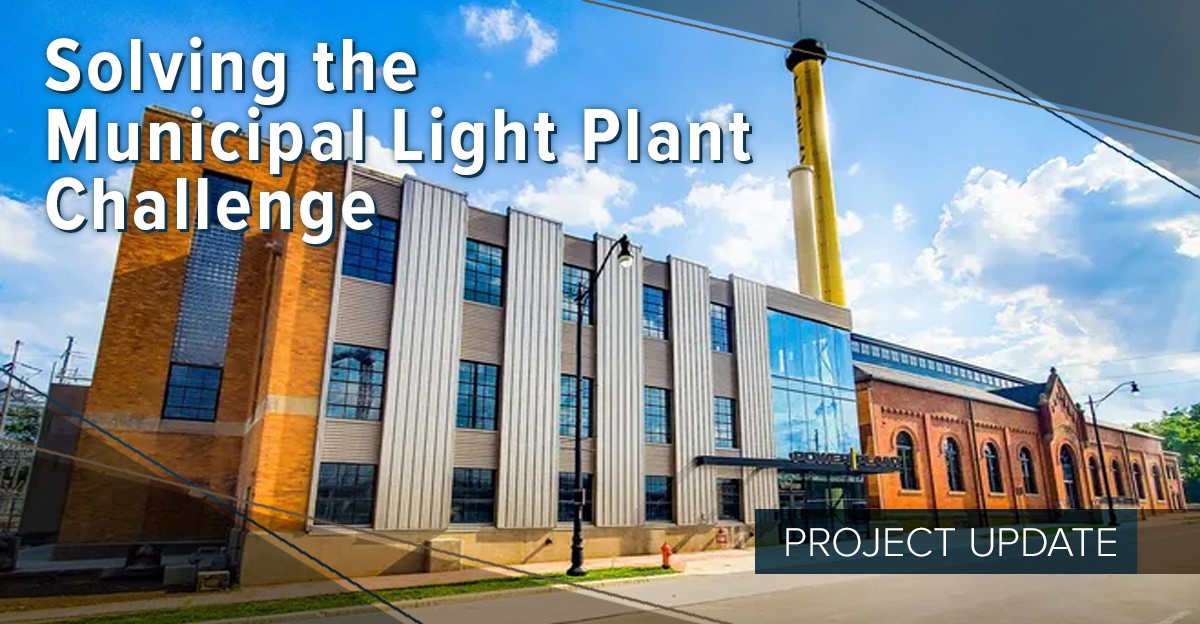 If you've driven by the new Lower.com field, home of the Columbus Crew, you've probably noticed the tall smokestack painted with the team's unmistakable black and gold colors. What you might not have realized: that smokestack is attached to one of downtown's newest and most interesting historic renovations.
The Municipal Light Plant, the City of Columbus former coal-fired power plant in the Arena District, sat empty and unused for nearly five decades until developer Brad DeHays saw potential in the massive structure. DeHays, founder of Connect Real Estate, won a city contract in 2014 to develop ideas for it after preservationists couldn't find anyone else to take it on. Work began in earnest in 2017, and it officially opened this year.   The Finance Authority was pleased to be among the financing partners who helped make this stunning project a reality.
What was once a derelict, flooded structure littered with thousands of tons of debris is now a light-filled, modern industrial office complex with glass walls and a three-story open lobby and event space. Parts of the original Municipal Light Plant can be found as design details throughout, including a huge coal hopper, a thick metal condenser end cap, and the original 40-ton beam crane suspended over the lobby. A large rooftop patio provides sweeping views of the Columbus skyline and looks directly onto the Lower.com soccer pitch. 
The facility consists of two structures: the old generation building (now occupied by Garth's Auctioneers and Appraisers and Red Architects) and the new generation building, which includes five levels of office space and a level of parking. As lead designer Sandvick Architects described it, "renovations are respectful but dynamic and reflect the industrial character of the historic structure."
Located at 555 W. Nationwide Blvd, the building offers close proximity to the city center, easy access to I-670, and a short walk to all three professional sports venues (and the upcoming Astor Park residential development). 
Patience Pays Off
It's no surprise the facility, built in 1903 (and extended in the 1950s), took nearly a decade to redevelop. Part of the funding depended on state and federal historic tax credits, which often take years to secure. "Some of the best developers we have in Central Ohio won't touch tax credit deals," DeHays told the Columbus Metropolitan Club at a recent roundtable. "Because they want to move faster."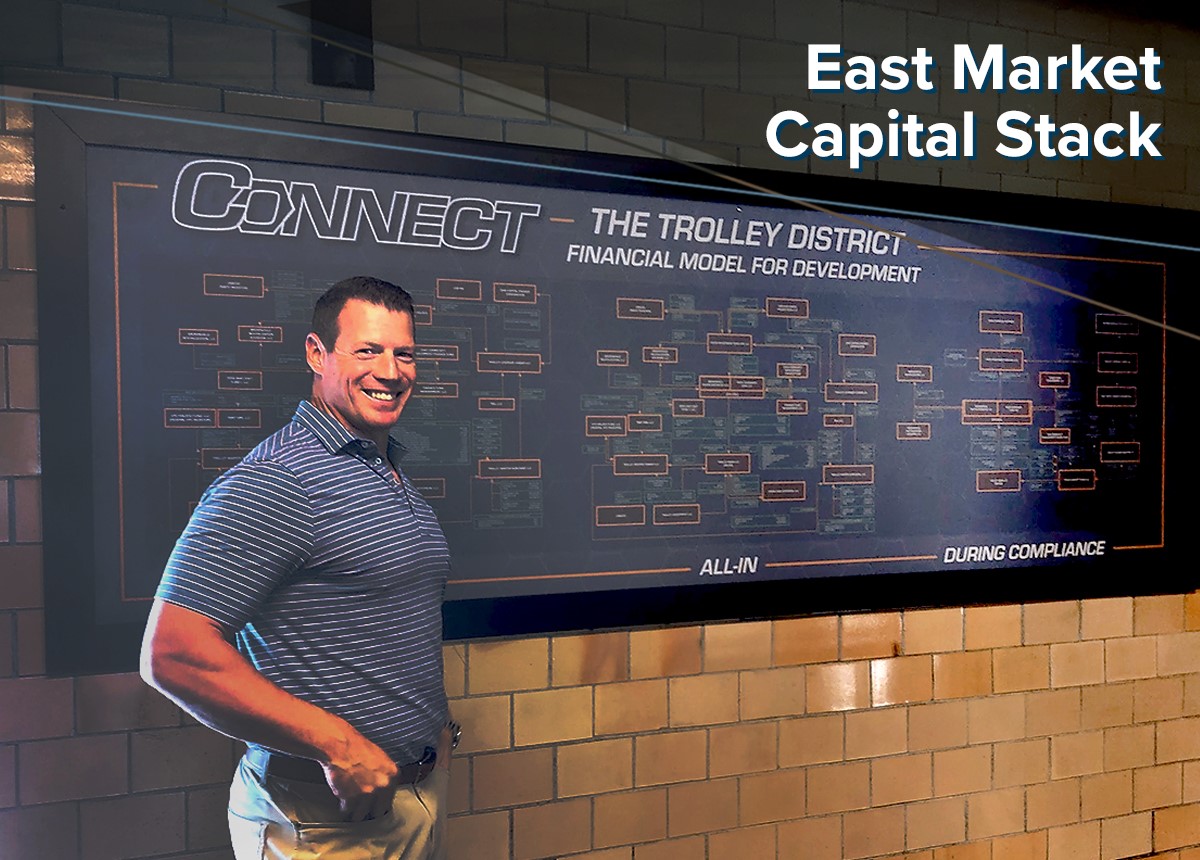 But DeHays has developed the patience and know-how to navigate complex capital stacks, the filings, review, and approvals necessary for projects like this. It isn't the first ambitious adaptive reuse project he's helmed in the city; he also developed the abandoned trolley barn complex near Franklin Park (now the new East Market) and the Historic Long and Front building. Another priority for the City of Columbus is downtown structured parking, which DeHays delivered with the Long Street garage. Time and again, DeHays has been the go-to when abandoned or blighted properties stood in the way of breathing life back into the city. A common thread to each deal, CFFA programming, is one of the many tools DeHays has tapped to deliver desirable and interesting assets to the City.
What's on the horizon for DeHays? His next project will convert the former Value City headquarters into a plant that will manufacture prefabricated, modular affordable-living units. The site will also be further developed to deliver much-needed affordable housing to that area. He's also working to turn the decades-long vacant former Ohio Department of Job and Family Services building on Front Street into a mixed-use apartment complex. That project is also dependent on pending  historic tax credits. It's likely he's working on other projects as well, filling his project pipeline with projects few have the vision or fortitude to successfully execute.
"Brad is uniquely good at taking advantage of a blend of financial resources, including historic and new-market tax credit programs," said Finance Authority Vice President Patty Huddle. "We love helping finance his projects. He's a big thinker. He sees the long game." (Columbus Business First has a great article on DeHays' use of tax credits for historic projects). 
"Our partnership with Connect is a great example of our ability to do multiple deals with a developer, using different financing tools customized to each project's unique circumstance," noted CFFA President Jean Carter Ryan.
A Team Effort
DeHays is quick to credit other partners in his long-game projects, too, including attorneys at Vorys Sater Seymour and Pease, historic redevelopment firm GBX Group, and Sandvick Architects. Their hard work has paid off: the building is already fully leased, and tenants will include the offices of the Columbus Crew and Connect Real Estate itself. There are about a dozen tenants total. 
The Municipal Light Plant recently won the 2022 James B. Recchie Design Award from Columbus Landmarks, recognizing it for excellence in urban design. "This is an example of a building that could have been lost, but instead it has been reimagined in a way that took creative thinking and attention to detail," Columbus Landmarks said in a statement. "The building honors its history through the integration of industrial artifacts throughout. This project demonstrates how even the most derelict industrial buildings can be brought back to life." The work included removing more than 2,000 tons of steel and 450 tons of aggregate. 
"Our city is so fortunate to have Connect and Brad DeHays making projects like this happen," said Huddle. "It's easy to focus on the deal of the moment. But when you step back, you realize beyond this deal he's teeing up a pipeline of projects. We're pleased to have supported many of Brad's projects and always curious about the next challenge he'll bring to the table."
To learn more about the history of the Municipal Light Plant details of the renovation, please see this article on the Sandvick website. 
 Questions about lease financing or other CFFA programs? Contact Patty Huddle at [email protected].