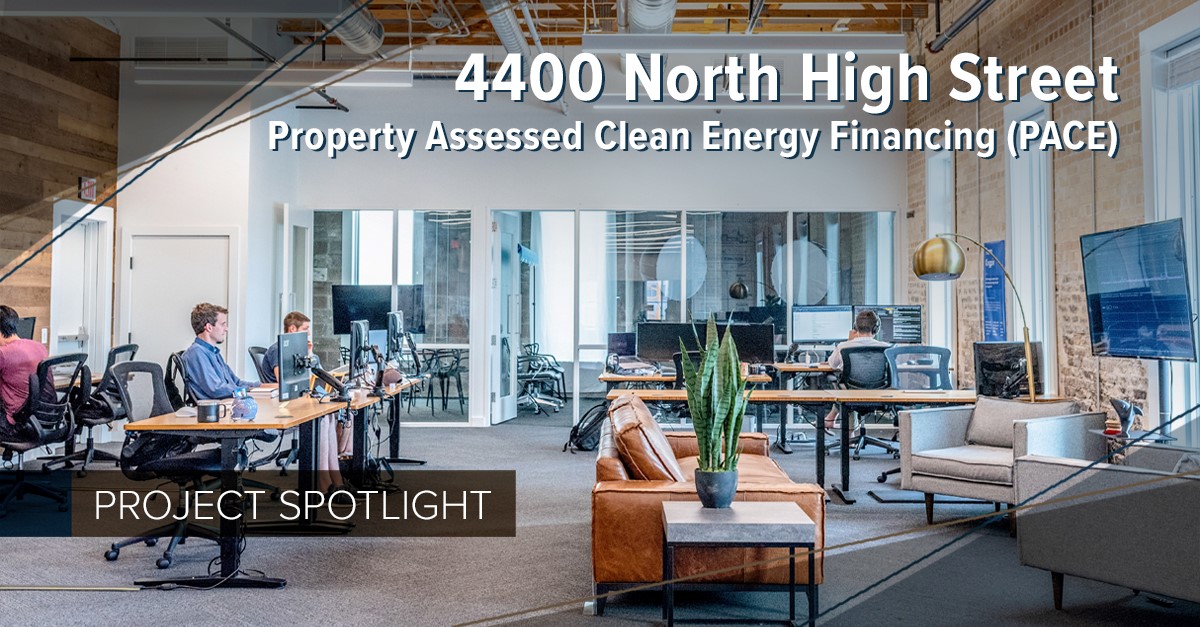 Photo: Austin Distel, Unsplash
The commercial property at 4400 N. High Street is a great example of PACE financing in action. The four-story, multi-tenant office building had all the issues of a 50-year-old structure: inefficient mechanical systems, dated lighting, and the trademark small windows so common at a time when large, inefficient glass was considered an energy liability. "It was built during the energy crisis," said building co-owner Bill Dargusch. "It needed an update so it could compete in the marketplace today." 
So Dargusch turned to the CFFA's Property Assessed Clean Energy (PACE) loan program to finance a wide range of upgrades to the building. In fact, the project was so successful, he and two partners turned their experience into Metropolitan Building Solutions (MBS), a full-time PACE consulting business. Since founding MBS in 2019, Dargusch has facilitated other PACE-related projects in Dublin and Columbus, including Easton Town Center.
The U.S. Department of Energy defines PACE as a financing structure in which building owners borrow money for energy efficiency, renewable energy, or other projects and make repayments via an assessment on their property tax bill. The financing arrangement then remains with the property even if it is sold, facilitating long-term investments in building performance. Commercial Property Assessed Clean Energy (CPACE) financing may be funded by private or government lenders. It is available in 39 states (such as Ohio) with enabling legislation and active programs. 
Smarter Building, Lower Energy Costs
Improvements to the 4400 N. High property included a variety of mechanical upgrades and replacements, including new chillers, boilers, and lighting systems. What made Dargusch most excited, though, was the new technology that ties it all together. "The main thing for me is the computer system that runs the building," Dargusch said. "These buildings had very elementary systems – basic thermostats that people controlled by hand. Now we have computer algorithms that monitor the weather, know how many people are in the building and when the sun's out." These systems, Dargusch likes to say, are the conductor of the building's mechanical orchestra. The building's lower energy costs were music to his ears – the enabling condition to finance the improvements. 
The upgrades were fully funded with CFFA's PACE loan. "It is great to see buildings like 4400 N. High be modernized with this financing mechanism," said CFFA Vice President Patty Huddle. "So many buildings in our market have become operationally inefficient or obsolete. While PACE financing has been offered by the Finance Authority for nearly a decade, more and more building owners and managers are becoming aware of its true potential."
Benefits of PACE Financing
Like most projects financed by PACE, 4400 N. High benefitted from the program's many upsides. It's an attractive, low-cost financing option that can create immediate positive cash flow as energy savings pay for debt. It's an opportunity for capital investment with no net out-of-pocket expenses, with the potential for 100% financing. And the best part: the Finance Authority and consultants like MBS provide helpful guidance throughout the process. It's a smart consideration for Columbus Region businesses, non-profits, and local governments to fund energy-efficiency improvements that result in lower energy costs. CFFA can fund improvements from $200,000 to $8 million for PACE projects.
It Starts with an Energy Audit
Most PACE projects begin with an energy audit to identify the improvements that qualify for the financing. There are two common audit levels that are typically performed. Level 1, Dargusch said, is a low (or no) cost review of the building with an energy company representative to identify aging mechanicals and perform a basic analysis of energy bills. Level 2 audits are more comprehensive and could cost $10,000 or more. The Ohio Department of Development offers a grant that may help pay for the energy audits. According to Dargusch, the 4400 N. High project's Level 2 audit was fully covered by utility company rebates available at the time. "If you do the audit out of pocket," Dargusch said, "you can still include that expense in your PACE financing deal later." 
While the audits may sound daunting, Dargusch says it can actually accelerate the program. "It brings the owner and all the parties involved the information they need to make a decision." Lenders simply need to validate that the energy efficiencies created qualify for financing.  Further, the average weighted life of the improvements that are financed feed into the term of the loan. Dependent upon the improvements, PACE financing can often be long-term – 20 to 30 years. And it's broad enough to apply to a range of project categories, including hospitality projects, apartments, offices, even government and institutional buildings.
Dargusch and his partners at MBS see tremendous potential for owners to use PACE for energy-efficiency improvements for offices, multifamily housing, hotels, retail, and more. And that's good not just for the environment, but for preserving existing structures and the character of neighborhoods. "The state of Ohio is filled with what we consider old buildings. The best, most environmentally sound progress would be to rehab them, not tear them down and build new." PACE is perfect for giving them new life. 
4400 N. High PACE Financing Details
Property: Existing four-story, multi-tenant office building built in the mid-1970s
Energy Improvements: Recommission mechanical systems and install building automation controls; install new high efficiency chillers; upgrade light system to LED technology
Interest Rate: 5%, fixed for 19.1 years
Term: 19.1 Years (may not exceed average weighted life of energy improvements financed)
Loan amount: $934,000
Energy Efficiency Improvements cost: $903,186
Transaction costs: $31,306
Annual Loan payment: $85k (two $42,500 Special Assessments collected with real property taxes)
Projected Annual Utility & O&M savings: $91,500
To learn more about PACE financing and if it's a good fit for your building's energy upgrades, please contact Patty Huddle at  614-427-0394 or [email protected].