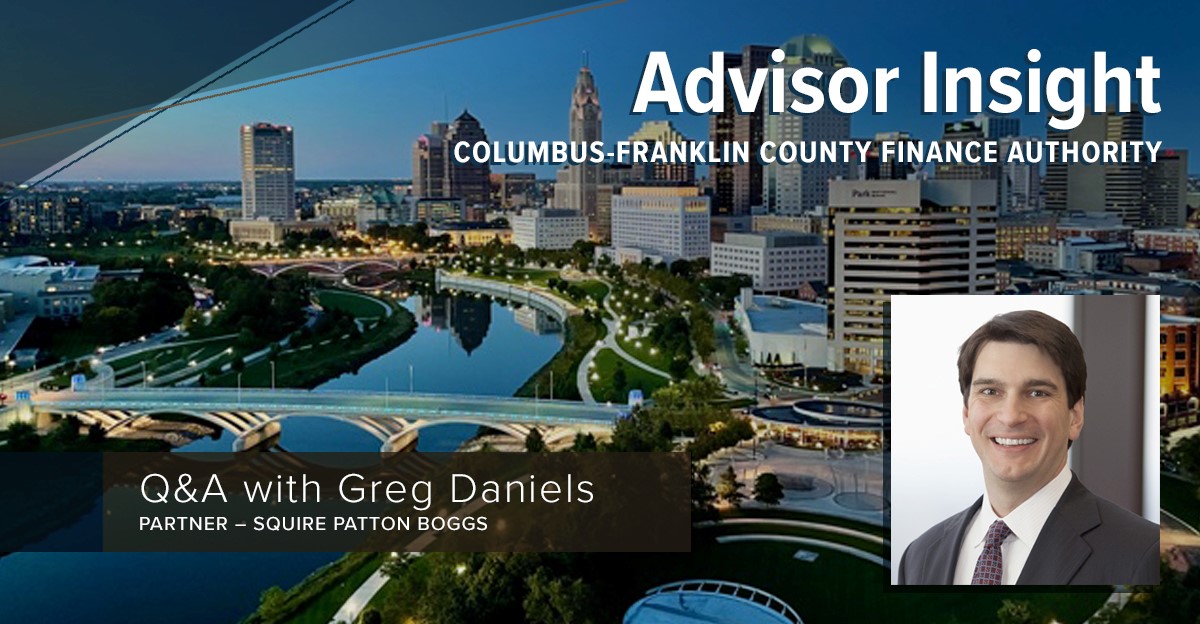 Development financing is complex. Various sources of funding are required, and that "capital stack" is often completed with assistance from the Columbus-Franklin County Finance Authority. Every deal CFFA completes is guided by the board of directors and several key advising partners, many who've assisted the Authority from the very early on. One is the law practice of Squire Patton Boggs and its Partner Greg Daniels.
Daniels, a specialist in public infrastructure finance, provides the legal guidance and review so crucial for successful funding programs – and the long-term health of CFFA. So far, he says, the Authority's track record is remarkably strong. "They are really smart and pragmatic," said Daniels. "They haven't, as far as I know, made any bad bets."
Port authorities, says Daniels, are the most flexible public development tools in current state law. "They're designed to foster public private partnerships," he added, "and Jean, Patty, and the board have done a great job, especially considering it's still a fairly young organization."

In this recent interview, Daniels told us more about his firm's role in supporting CFFA, why the organization matters, and he predicts what to expect in the first half of 2022.
How long have you and the firm been involved with the finance authority?
Nearly since its inception. We helped form the Finance Authority in 2006.
Describe the firm's role in typical Finance Authority activity.
We are the general counsel for CFFA. That means in addition to transaction assistance, we provide any kind of general legal services the Authority needs – open meeting requirements, records retention policies, public records requirements, responding to public records, and labor and employment questions that come up. We don't advise the finance authority on every transaction that they do, but we are involved in most of them. We advise them on structure and making sure their goals are being accomplished and their interests are being protected. 
Who is your primary point of contact with the Authority? 
It's primarily (President) Jean Carter Ryan and (Vice President) Patty Huddle. They're my day-to-day contacts, but I do attend all the board meetings and I know all the board members. I'm always available if they have questions or want to discuss anything.
Are others in the firm engaged as well?
I am the primary contact. But we also have a great team here that provides service.  Tony Core is a key player and leads many of the transactions for the Capital Lease Program and Central Ohio Bond Fund. We assist with almost all the capital lease deals, and also assist with most of the bond fund deals.
Do you have a favorite project or transaction with the Finance Authority? One that stands out as particularly unique or transformative for the city? 
Oh gosh. That's like asking me to pick my favorite kid! I have a list of five or 10 really interesting projects we've done around Columbus. In no particular order of favorites, some of the bigger, higher profile projects that come to mind are the parking garage and TIF deals at Easton; a number of deals with Nationwide Realty Investors for Grandview Yard; and in the last year we did a number of deals for The Peninsula development in Franklinton. We've also worked with Thrive Companies to help with their developments including Jeffrey Park and the Quarry Trails development near the new Metro Park. Grandview Crossing, too.
Are you involved with any other port authorities? 
We do work for other port authorities across the state. Our port authority practice is pretty active.
What are some of the benefits you see for clients working with the Columbus-Franklin County Finance Authority?
They provide advantageous financing. They provide access to the market through the bond fund or through their Conduit Bond Programs. And, especially in the Bond Fund, at better rates than someone might get elsewhere. It really stretches development dollars farther. 
They also provide tax benefits through their Capital Lease Program, which provides sales tax exemptions for projects, especially projects that create jobs or workforce housing, public infrastructure like parking garages and, in some cases, even roads. CFFA can own the parking garage or road and not have it be subject to real property taxes. So CFFA can help get some advantageous financing. They can help save you some money as a developer, and they are a really nimble and responsive organization that understands how development works.
Every project has a capital stack that includes a number of financing resources involved. CFFA often contributes a small part of a stack, but it's very important because it helps fund infrastructure and parking garages. Do you ever see situations where, if CFFA doesn't get involved, the project might not happen?
Yes. And often they are the last piece. For your traditional capital stack, there is private debt, which is usually provided by a commercial bank. Then you have equity –  private investors or institutional investors providing equity. The Finance Authority typically enters the mix, and where it really is valuable, is in more complicated redevelopment projects where there's a gap between those sources and the total cost of the project. So the Finance Authority comes in to close that gap.  Even a 5% gap could kill the project.  The Finance Authority often fills project gaps by financing public infrastructure – maybe 5 or 10% of your total project costs. It also helps close financing gaps on the private side through its capital lease program that could provide savings of 3% to 5% of total project costs, if you have a lot of building and construction materials.
How aware are developers of what you described? 
Most of the local developers have a pretty good handle on it. That said, we've seen more and more developers come in from out of state, and often they're not aware. They don't even know what a port authority is or how these tools work and can help. 
What would be your message to them?
If a developer or any entity is looking to access the municipal bond market or has a development project with any kind of complexity, the Finance Authority can be really, really helpful.  Be sure to reach out to Jean and Patty to see how they can help.
When you add up the amount of financing CFFA has created, it's in the billions. It's quite remarkable an entity that small can be that impactful.
That's right. They've been so active and there's been so much growth that they've started passing some of the older, larger port authorities around the state in terms of bond fund program and capital lease program volume. CFFA has been really lean and mean, and smart. 
What makes CFFA so smart? Is it that they're very selective about the engagement that they even consider or is it their speed? Their efficiency?
Speed is part of it. They have really tried to focus on where they can make the biggest difference with their capital lease program and their bond fund program. They have been like any business; they've been opportunistic when they've had the chance, like with the Ohio Venture Capital Program. They saw that opportunity. They applied and were awarded the job from the state to assist with a meaningful job producing program across the state. Where they put their credit on the line with their bond fund program and their PACE financings, they are really smart and pragmatic and how they go about it.  
Do you have any predictions for 2022 the year ahead?
I think it is going to continue to be really busy, based on what I've seen. The pipeline for the first half of 2022 was already filling up with projects. There's just such demand in our market.
And you don't see that changing? 
I don't see that changing for the first half of 2022. If interest rates really start going up, that could have a material impact on the ability to do some of these projects, but people have been talking about that for a long time and it hasn't happened yet. So I think it's going to continue to be one of the hottest markets in the country. At least through the first half.
What are your central Ohio roots? Were you raised here?
I was not born here. I grew up mostly in Texas, around Dallas for my childhood. We moved to Toledo when I was in high school.  I came here as an undergrad at Ohio State. I went away for law school and decided to come back here because I liked Columbus. It had a really good legal market. It still does.
Are you an Ohio State fan?
Oh yeah. I can't say I was a fan before I went there, but it's hard to resist once you're here.