When Covid hit Columbus, it hit cultural institutions hard. Not just in terms of lost revenue, but lost connections to their patrons. Local gem ProMusica Chamber Orchestra decided the show must go on, even if they couldn't gather audiences or perform on their home stage at the Great Southern. Their alternative: streamed virtual concerts, in which masked musicians performed in a space large enough to maintain social distance. The location they chose for this experiment? The Fives, a flexible new event space located in the White Castle site redevelopment on Goodale Boulevard.
It was an unexpected use of The Fives that proved to be a perfect solution. That's the beauty of well-planned, mixed-use projects: they bring possibilities even the developers didn't anticipate.
The White Castle redevelopment is just one of several new or coming projects financed in part by CFFA in a roughly one-square-mile area northwest of downtown, between I-670 and 5th Avenue. The investment in the Founders project in Harrison West supported more than 200,000 sf of office space, 195 senior living units, and 14,000 sf of retail space and other uses. In all, CFFA facilitated $197 million in bond issuance for the various projects. Total investment in these Harrison West projects was nearly $260 million.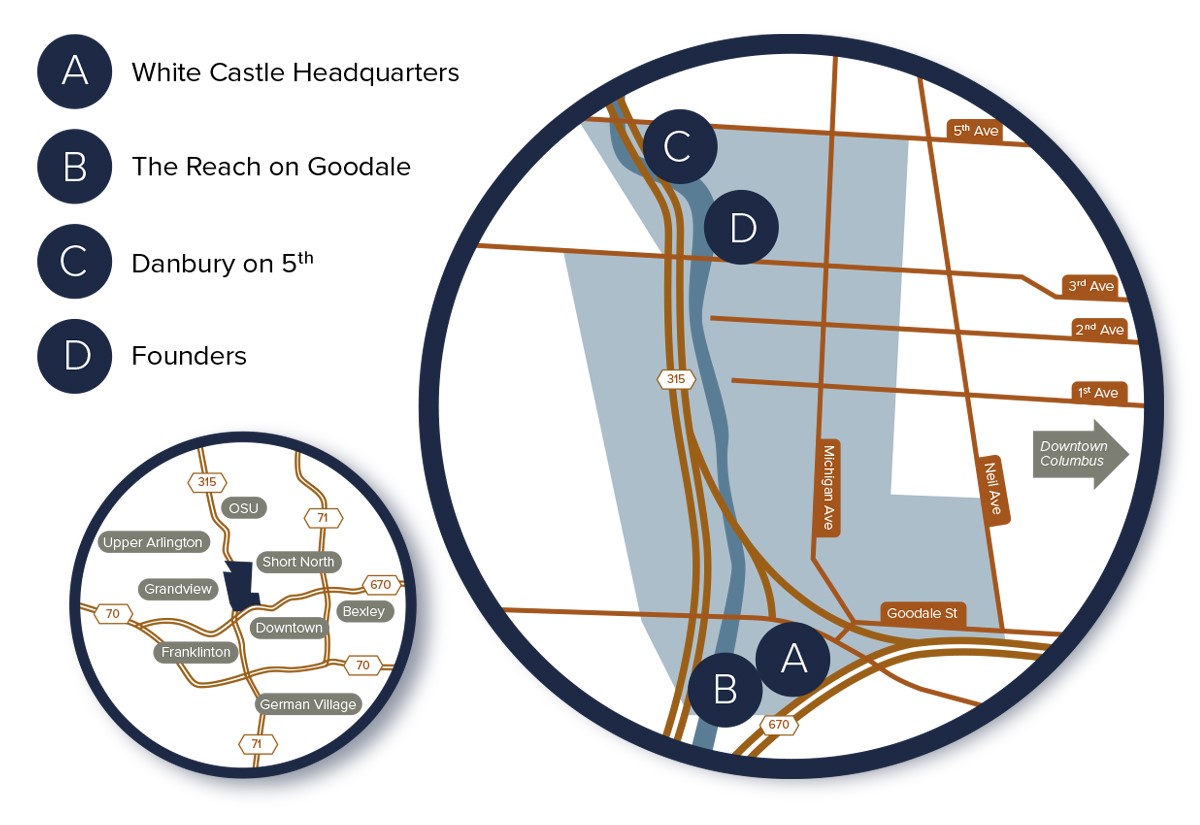 In the first of our Transformation series, here's a closer look at this diverse set of projects in the Harrison West area – it's a great representation of the many ways CFFA helps make local development happen.
White Castle Headquarters Redevelopment
CFFA provided $81 million in financing for this large, multi-phase, mixed-use project. Occupying 19 acres, anchored by a new 90,000 sf headquarters for Columbus' historic hometown fast-food chain. The redevelopment includes The Reach, which features a 100,000 sf office building, parking, common green spaces, and much more. "It's really gratifying to see such an ambitious project come to life and deliver on its goals," says CFFA President Jean Carter Ryan. Lead developer of the White Castle project and The Reach was Elford. Learn more about this project.
Founders
This 21-acre, mixed-use development offers 400 apartments and for-sale units, a six-acre park, 7,000 sf of retail, and a 472-space parking garage. CFFA provided over $55 million in bond financing for public infrastructure and public parking. Thrive (fka Wagenbrenner) is the master developer for the project. Other Founders' collaborators include Daimler Group, Lemmon, Continental Hospitality Group, Fortress Real Estate, and M/I Homes. Learn more about the Founders project.
Danbury on 5th
Included in the Founders project and adding much-needed senior living options, Danbury is a five-story building with units ranging from independent and assisted living to specialized memory care. The project, developed by Lemmon, includes 189 units total on a 1.86 acre lot just a short drive from The Ohio State University Wexner Medical Center. Of the total $45 million investment, $37 million was financed. Learn more about the Danbury project.