The Columbus Regional Energy Special Improvement District (ESID) managed by the Columbus-Franklin County Finance Authority surpassed $100 million in committed investments with the approval of financing for the Near East-Side Trolley Barn project earlier this year.
In 2015 Franklin County provided the Finance Authority seed funding from its Franklin County Energy Works program to establish the Columbus Region Energy Fund to offer Property Assessed Clean Energy (PACE) financing in Franklin County.
On the five-year anniversary of the program, Franklin County Commissioner John O'Grady remarked, "Our investment is stimulating private investment in sustainability as intended. Since the program launch, $22 million of PACE financing has leveraged over $100 million in total investment yielding a 32% average utility bill reduction and annual energy savings of $1.4 million. PACE is a great financing option for property owners interested in no-money-down, longer-term financing leading to increased value and reduced operational costs."
PACE financing can be used to fund energy efficiency improvements such as insulating, air sealing, cool roofs, heating, cooling and water efficiency products as well as renewable energy investments. In Ohio, PACE financing can also fund new construction if the building owner commits to build the new structure to exceed the local building code energy efficiency requirement. The types of properties benefiting from the program vary widely, from hospitals to hotels to single or multi-tenant office buildings, retail and industrial.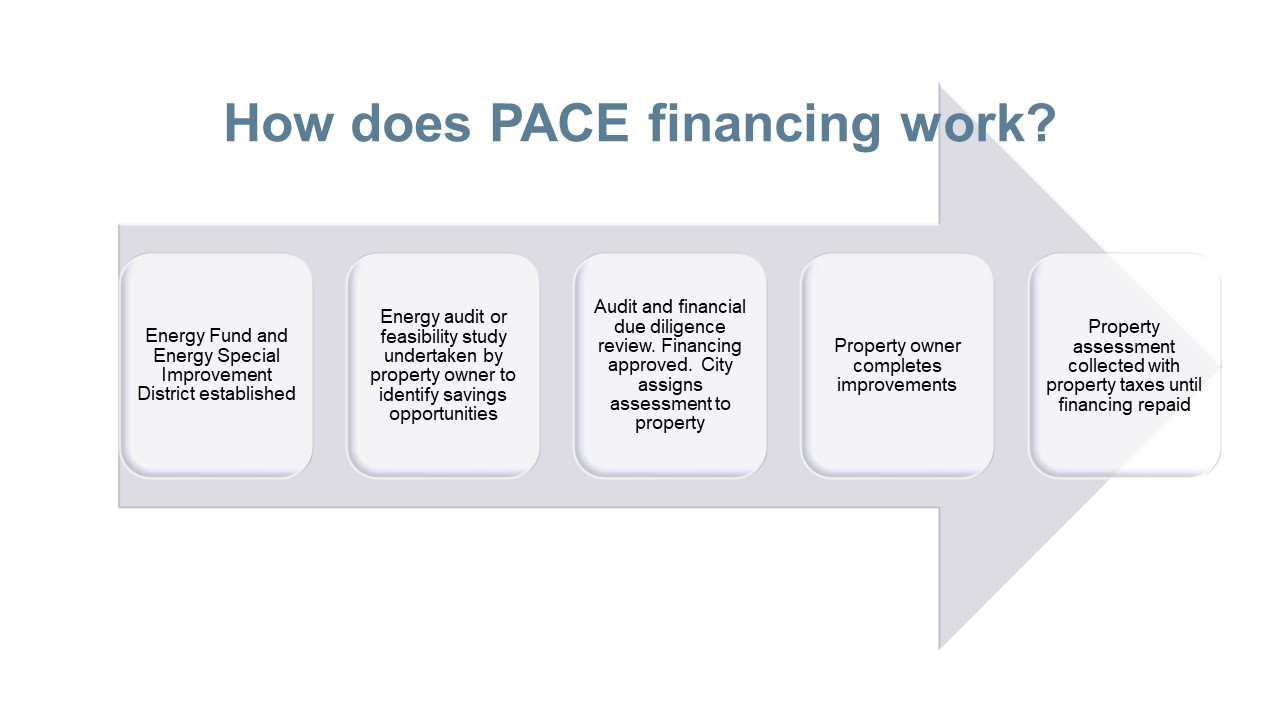 The Columbus Regional Energy Special Improvement District (ESID) was formed to provide PACE financing to specific properties at the request of the property owner.  Today ESID member communities include: Bexley, Columbus, Dublin, Grove City, Hillard, Marble Cliff, Perry Township, Worthington, and Whitehall.  Additional communities may join upon request and subject to board approval.
"PACE has been a great addition to Worthington's economic development toolkit.  In 2018, Worthington City Council authorized the PACE Assistance Program which covers the expense of the energy audit, a prerequisite to PACE financing. Property owners of buildings in need of modernization can secure the funding, make the improvements and pay for the expense over time. The improvements make the property more marketable and  reduce operating costs. Its a win for the community, property owner and building occupant.  The West Wilson Bridge Road project is a great example." David McCorkle, Economic Development Director, City of Worthington.
Project Spotlight – The Trolley Barn
The former Columbus Electric Trolley Barn located on the Near East-Side of Columbus, once a vital part of the City's transportation infrastructure, has remained vacant and in a state of decline for decades.  Trolley Barn, LLC  plans to revitalize the property so it becomes a community gathering point and economic contributor. "After a lot of hard work and collaboration with the neighborhood, the City of Columbus and the Columbus-Franklin County Finance Authority, it is great to get this project started.  We look forward to providing an asset to the neighborhood that will be enjoyed for many years to come," Brad DeHays, Trolley Barn, LLC.
The redevelopment of the three-acre site will include a mix of uses: flex office, a fresh food market with stalls for independent food vendors, and a 13,000-square-foot Columbus Brewing Company brewpub.
  The Columbus-Franklin County Finance Authority supported the $29 million revitalization project with PACE financing.