Quality, affordable downtown housing is a priority for the city of Columbus, Franklin County, and the Columbus-Franklin County Finance Authority. So the Finance Authority is pleased to be among several funding sources of the exciting new Vera on Broad project,  a mixed-use, workforce housing project to be located at 366 E. Broad Street.
The project will consist of two buildings: a renovated existing historic building facing Broad Street, and a new, adjacent eight-story building that faces Grant Avenue. Located just steps away from the Columbus Museum of Art, the development will offer more than 100 housing units and parking spaces and 13,000 square feet of office, retail, and amenity space. Designed with affordability in mind, the living units are anticipated to be priced between 60% and 120% of area median income (AMI), with an average of 80% AMI.
As part of the project's financing plan, the Finance Authority partnered with the Finance Fund, a mission-driven real estate and community development organization. "We're particularly excited to be part of this project because it will fill a gap in housing affordability in downtown Columbus," said Finance Authority President Jean Carter Ryan. "This type of engagement is very much in line with our goal to facilitate the development of affordable housing projects and increase the  diversity of our project portfolio."
"For so many projects, the capital lease structure can be the tipping point for the project to be financially viable," says Finance Authority Vice President Patty Huddle. "It's an incredibly important program for real estate development in our market.  We are so pleased to partner with the Finance Fund and Daimler to make the project a reality."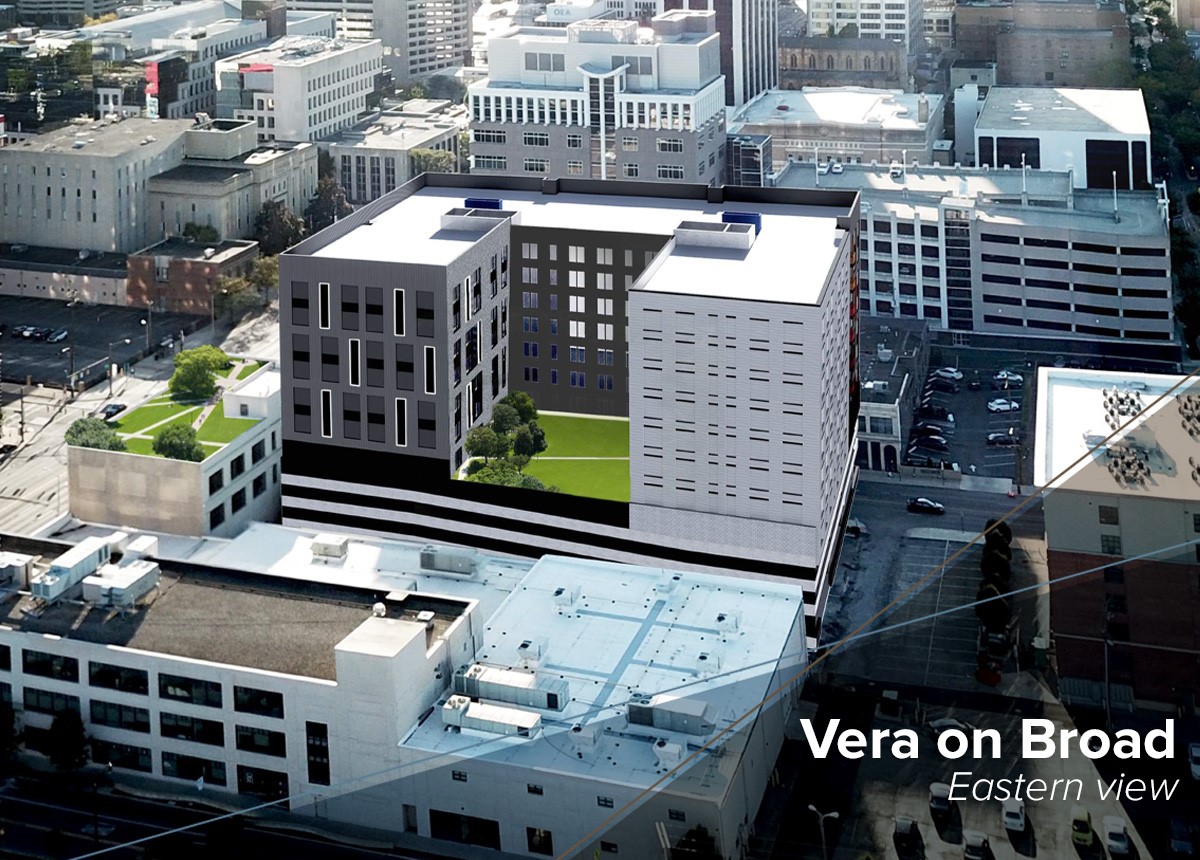 Vera on Broad, says Finance Fund President and CEO Diana Turoff, "will contribute to the vibrancy and rich architectural footprint of the surrounding neighborhood." The site will host a locally branded coffee shop, a rooftop deck for social gathering, and a flexible shared work space available to residents and visitors alike. The unit mix will include efficiency and one-, two-, and three-bedroom apartments. "We anticipate a nice variety of individuals and families," says Carter Ryan. "It will allow middle-income people the chance to live near where they work, or simply the opportunity to live in the Discovery District, one of downtown's most dynamic neighborhoods." 
The Daimler Group is an investor and the general contractor for the project. "Vera on Broad will transform the Broad Street landscape while preserving the historic character of the site," said Daimler Group President Paul Ghidotti. 
Construction of the project will begin this month and is expected to be completed by December 2022.